Impactful information that may affect your travel plans can be found below!  
Storm Season
Storm Season in Florida lasts from early/mid June to Late November. During this time it is best to keep an eye on news & resources, linked below, for any updates. Additionally, view our beach cams anytime to check the weather before you arrive.
Red Tide
As of Late August, the red tide has been slowly dissipating from the Western coast of Florida. It is more or less under control. Links & resources for Pinellas County can be found below.
Covid-19
The delta strain is still being studied by medical experts. While no mandates are currently in place for Florida, it still may be beneficial to follow CDC recommendations & best practices to stay safe. Find out what we are doing about it below.
Information about Tropical Storms & Hurricanes

Shelters
The Lealman Exchange shelter (5175 45th St. N. in St. Petersburg) – by route 75
Ross Norton Recreation Center shelter (1426 S. Martin Luther King Jr. Ave. in Clearwater) – by route 61
Tampa Bay has always been a place of connection.
At our core, we're about bringing people together, making them feel vibrant and alive. Out of darkness comes light—our powerful Florida sunshine helps make this one of the best destinations in the world.
But with Covid, we're asking everyone to come together by staying apart. For now…
IMPORTANT
As of June 5th 2021 the Florida mask and social distancing mandate has been lifted. It is currently up the each business or individual to determine what they feel comfortable doing. We ask you keep in mind, being safe isn't just for you, but everyone around you too.
If you do not have a mask, or do not feel comfortable without one, they can be provided by the resort. 
Should the mandate return due to a sudden increase in the Delta variant cases, the previous regulations were as follows:
Local businesses, including Liberte Management properties, would require face masks while indoors. Exceptions to the order would include:
The mandate could not conflict with the Americans with Disabilities Act.
If a person is under age 18, that person's use of a face covering would be left to the discretion of that person's parent, guardian or an accompanying adult.
Religious rituals such as various forms of singing would be permitted, provided that social distancing is strictly maintained.
Exercising while social distancing, such as in a gym, would be permitted without a face covering.
(The Link above was provided by the Tampa Bay Beaches Chamber of Commerce)
VIEW THE PREVIOUS EXECUTIVE ORDER ( 21-102 ) HERE 
WHAT WE ARE DOING AS A COMPANY
As a vacation management firm with over 30 years hands on experience, we've received dozens of emails from people unsure of what they should be doing on flights, in hotel rooms and with their luggage.
In addition to reinforcing good hygiene practices recommended by the CDC with our team members, we have also increased the frequency of our already stringent cleaning and sanitation procedures in every department.
We are monitoring the situation closely and will continue to modify our processes to maintain the highest levels of cleanliness at our properties.
We look forward to exceeding your expectations and continuing to deliver an unsurpassed vacation experience in a warm, welcoming and safe environment.
WHAT WE KNOW RIGHT NOW
COVID-19 Delta Strain updates are coming quickly, experts tell us to stay calm but take precautions much the same as original Covid.
HOW TO PROTECT YOURSELF WHILE FLYING
Wash your hands at every opportunity. If you don't have access to soap and water, use a hand sanitizer which contains at least 60% alcohol. Avoid touching your face. And, as soon as you sit down, wipe down everything!
The technique of washing is important:
1) Wet your hands with clean running water
2) Remove them from running water or temporarily turn it off and lather them with soap by rubbing them together.
3) Soap up your hands, between your fingers and under your nails, and scrub for at least 20 seconds.
4) Then, rinse your hands well under clean running water.
5) Dry your hands using a clean towel (not a communal one) or air dry them
EXTRA PRECAUTIONARY
STEPS TO TAKE
Liberte is taking additional measures to ensure all rentals are cleaned thoroughly during this time. If you are staying in another property outside of Liberte, there are some additional steps you can take to feel more at ease. Wipe down surfaces with a disinfecting wipe and increase your hand hygiene. An extra safety precaution might be to bring your own pillowcase (which you should then pack up in a separate plastic bag and launder immediately when you get home) and disinfect light switches, alarm clocks, phones and remote controls.
Probably the most important thing in the room is not to drink from any of the glasses or ceramic mugs. You just have no idea when they were washed or who touched them last. When it comes to COVID-19 and other viruses that are similarly transmitted, the key is to always think first about your hands and then your face and your mouth and how something has the potential to get there.
OUR TEAM
IS HERE
Each employee continuously washes their hands, uses sanitizer, keeps their distance & follows all other guidelines provided by the CDC.
All surfaces including door knobs, utensils, light switches, furniture, etc. have been sanitized for your stay.
FOR YOU!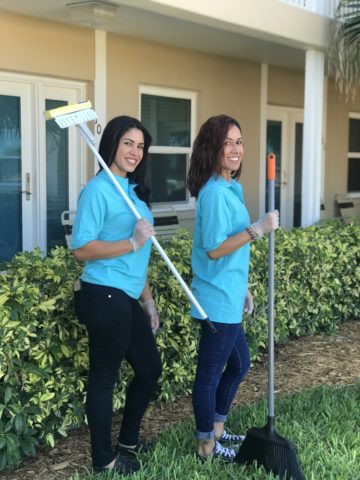 Are you a Healthcare Professional or First Responder?
Liberte would like to thank you for your services during the COVID-19 outbreak by offering a deal on your next vacation!
Please fill out the survey below, so we can find the perfect vacation for you!
We will give you a call and email within 48-72 hours: